23rd Annual LGBTQI Psychotherapy Conference
Keynote Speakers: D. Joye Swan and Shani Habibi
Date: November 11, 2018
Antioch University
Culver City, CA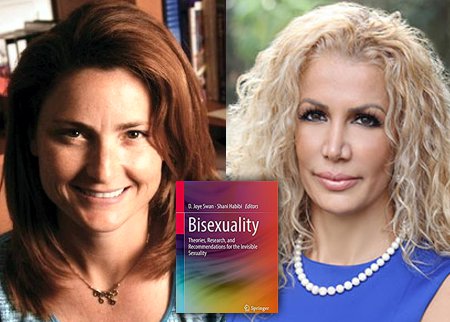 The Lesbian and Gay Psychotherapy Association of Southern California, Inc. (LAGPA) announces its Twenty Third Annual LGBTQI Psychotherapy Conference. The conference is a one day event co-hosted and co-sponsored by Antioch University Los Angeles and the LGBT Specialization. The conference is being held Sunday November 11, 2018 in Los Angeles and presents academic research and expertise on LGBTQI issues and concerns to professionals working with these clients in their counseling practices. The conference is designed to meet the educational needs of psychiatrists, psychologists, LCSW, LMFT, MSW, interns, and students of psychology, and earns continuing education credits from APA. Approximately 100 professionals are expected to attend.
This year is LAGPA's 25th Anniversary since its inception in 1992. To honor that achievement D. Joye Swan and Shani Habibi will be the co-keynote speakers. They are editors of Bisexuality: Theories, Research, and Recommendations for the Invisible Sexuality (Springer, 2018 ISBN 978-3-319-71535-3) and recognized authorities in their field.
Dr. Swan has been studying sexual behavior for over twenty years. The common feature in all of her research is using social psychological theory to understand and change stigma and prejudice in relation to sexual minorities beginning with her research on aversive discrimination against homosexual males to her most recent research on defining, labeling, and understanding the origins and impact of biphobia. Along with Dr. Habibi, she has recently completed two large scale studies which follow up on and expand their research on how heterosexuals define bisexuality and under what conditions they will apply that definition to either males or females.
Dr. Shani Habibi is an Associate Professor and the Director of the Masters' in Science program at Mount Saint Mary's University. Her main research interests are in the areas of sexuality with a focus on bisexuality. She is trained as a Cognitive Behavioral Therapist as well as a Systemic Therapist and has treated clients in a variety of clinical settings, including bisexuals. Currently, she educates marriage and family therapists on how to treat bisexuals in a clinical setting and is on the board of the Lesbian and Gay Psychotherapy Association (LAGPA).
2018 Press Release
2018 Call For Papers/Presenters
LAGPA is accepting proposals for our Annual LGBTQI Psychotherapy Conference. The topics should focus on LGBT clients and the knowledge needed by therapists to better serve this population. Click here to download descriptive document.
2018 Sponsorship & Advertising Opportunities
Approximately 100 professionals attend our conference. What better way to reach this targeted audience than to sponsor or advertise? Attached are the appropriate forms. We can still accommodate booths. Please see the attached Sponsorship Form.
Click here to visit our Conference Archive.